European Manufacturing Statistics
9th December 2014
LONDON - European stocks slumped as German imports and exports contracted in October. The Federal Statistics Office said German imports fell 3.1% in October from a month earlier, compared to forecasts for a 1.7% decline. Exports dropped 0.5%, less than the 1.7% contract expected by analysts.
"While still-fragile domestic might have been holding back import growth, the drop in the oil price which began in October, is likely to have had the much bigger impact," said Berenberg senior economist Christian Schulz.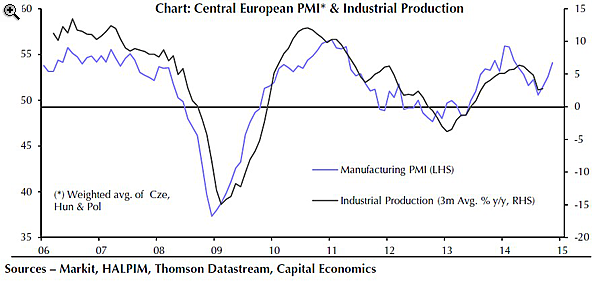 "Consumers and companies will increasingly benefit from sharply lower prices for oil imports since the end of September this year." Brent crude fell 0.76% to $65.73. The head of state-run Kuwait Petroleum Corp. said that prices as likely to remain around $65 a barrel for the next six to seven months until the global economy recovers or OPEC changes its production policy.
In the UK, a report on industrial production is expected to show a 1.8% rise in October following a 1.5% increase a month earlier. Analysts also predict manufacturing production climbed 3.2% in October after a 2.9% gain the previous month.
Elsewhere in the UK, the NIESR releases its latest gross domestic product estimate while the British Retail Consortium unveils November sales figures.
Stateside, the focus will be on the release of NFIB's Small Business Optimism index,which is expected to rise to 96.5 in November from 96.1 the prior month amid signs of growth in the world's biggest economy.
The euro rose 0.34% to $1.2359.
Sources: https://uk.finance.yahoo.com/news/europe-open-stocks-drop-german-092100406.html & http://www.portfolio.hu/en/economy/manufacturing_pmis_rise_across_the_board_in_central_europe.28773.html
EMS will soon be looking to place candidates abroad within the European and Global markets. If you'd like to be considered for relocation placements, get in touch!
Share this article on social media: